More than 3 million people visit Yellowstone and Grand Teton national parks each year, but not everyone experiences the parks the same way. On any given day, a diverse range of visitors with a wide range of abilities pass through the parks. Is the full range of public needs being served for all visitors in both parks?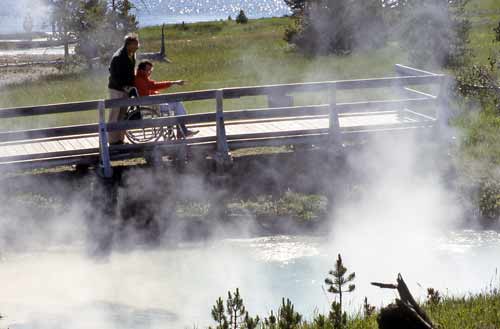 Part travelogue and part government oversight audit, this two-part series will look at what the federal accessibility standards are for our national parks and whether and how they are being met in Yellowstone and Grand Teton. Are there areas of special achievement or ways things could be improved to make the parks more enjoyable for everyone? What are the spots of particular interest for visitors with disabilities, including sites that allow them particularly good access or that are lacking in accessibility.
We plan to talk to park planners and managers, licensed concessioners, local and national travel industry representatives, leaders from advocacy groups and visitors and locals who access and experience the parks in ways that might differ from the majority of those passing through.
Yellowstone Gate will publish two stories, one focusing on Yellowstone National Park and one focusing on Grand Teton National Park. They will include photos and public documents presented as .PDF files.
Funds will be used to pay for news gathering and investigative work in and around the parks, including for travel to and lodging in or near Grand Teton National Park, where summer rates make reporting costly and difficult for small, community news outlets.